Satellite Vehicle Tracking
The system enables remote location and tracking of vehicles in the country and abroad using the Global Positioning System (GPS), mobile telephony network (GPRS service) and the Internet.
The system also provides automatic vehicle device control, navigation, voice communication and centralized fleet management. The vehicle location is determined by a GPS receiver installed in the vehicle that provides data on position, speed and direction of movement, which allows real- time tracking and reporting.
Vehicle data is sent to the dispatch center via the GSM network and the Internet where the user
can monitor employees and vehicles using a computer and analyze reports on the vehicle
position and condition. While driving, the driver can identify the current position of his vehicle
on the navigation device screen. It can also alarm the dispatch center using the alarm button
located in the driver's cab.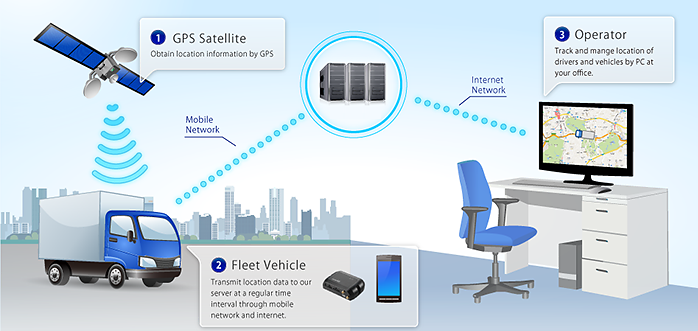 The system is designed to automatically send alerts about vehicle deviations from the specified route, speeding, engine start, fuel level, speed, battery voltage level, activation of the built-in alarm, door opening and other user-defined events.
Solutions tailored to user needs.
A website with simple user features makes fleet management very easy. The system is configured so that the user determines the parameters to be controlled. Vehicle status data is sent at periodic intervals or immediately at the user request.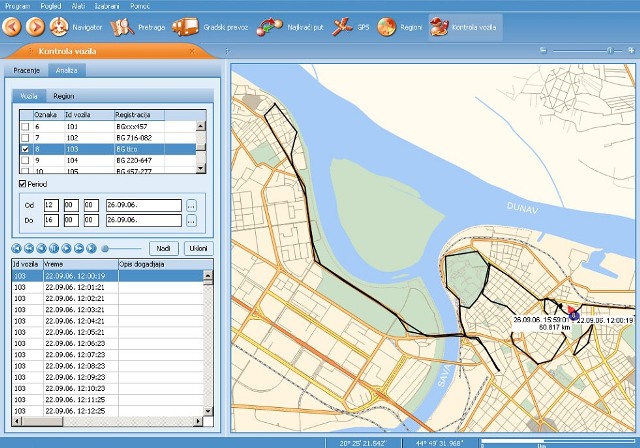 The system can provide data on the vehicle position, speed, condition of vehicle devices and important events, as well as data on the history of traveled route, with appropriate map and tabular display. The form and content of reports can be adapted to the user needs, and data contained is easily archived and processed.
System implementation includes:
Gas station terminal for fuel consumption control
Equipment for registration using unique cards or key in the vehicle
Unique cards or keys for registration in vehicles
System for securing all vehicle fuel inlets and outlets with a printed bar code
Android application for reading bar codes from the fuel inlets and outlets securing system
Installation of electronic tank cap
Installation of a tank fuel level measuring. probe
GPS tracking services